Company Profile
---
Who we are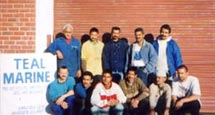 Teal Marine was established in 1998. Since then we have grown to become a proud, efficient and no-nonsense company. Not only do we service the marine industry, we also offer all types of steel and pipe fabrication.

Further to this Teal Marine has a friendly and dedicated administration staff, who can assist with any client queries.


Engineering:
Heavy and light

Piping:
Repairs, installation of heavy and light bore pipe.

Mechanical:
Diesel fitters
Mechanical fitters

Repairs and maintenance:
Conversions; construction and fabrication of new builds general engineering services.